Fall Garden Workshop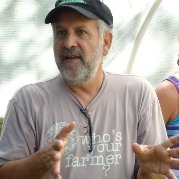 with Rick Martinez
Saturday, September 28, 11:00am-2:00pm
Come learn everything you need to know to get started on your Fall organic garden.
In this special three hour Saturday workshop, Rick will cover soil health, composting techniques, seed selection and preparation, organic pest control methods, irrigation and much more! No matter the size of your garden or level of expertise, you will benefit from Rick's extensive knowledge.
Bring your own 5 gallon container (or smaller) and take away compost to get your own garden started!
Workshop Fee: $25-$35, cash or check only.
Please CONTACT US with questions or to RSVP!