Our Market Vendors
Please note: -Not all Vendors listed will be at Market every Sunday -Some vendors are cash only
The Dancing Goat
Tampa, Florida
Pam Lunn, Farmer
We are a small family urban farm offering free range eggs and raw goat milk products including milk, cheeses, kefir and yogurt from our own animals. We avoid chemicals on the farm and our animals are treated as family members first, and then food producing animals. There is no shortage in goat milk this year as we had a gazillion babies last spring and are expecting another gazillion starting in November. You never know when we will pack up the littlest ones and bring them to the market as ambassadors!
We also carry raw cow milk products from JBT Jersey Farm as a service to our customers that wish cow products as well.  Pre-ordering to thedancinggoat83@gmail.com prior to the market is the best way to make sure your products are reserved when you arrive.
Be sure to try our artisan cold process goat milk soaps from all natural ingredients and essential oils!  Expect big things this year as we increase our soap production and go national with a separate soap company!  You asked, we expanded.
Variety is the spice of life and at our booth, variety in eggs is the norm. Quail eggs, pheasant eggs, banty eggs (miniature chickens with very big attitudes) and pullet eggs can often be found complimenting the free range chicken eggs in many pastel colors!
We are so grateful to all the wonderful folks at Sweetwater, as we enter our eighth year of participation at the Sunday Market, for providing us this marketing opportunity and making us feel like "part of the family". We appreciate each and every customer that has walked in our booth and feel truly blessed to know you!  Thank you for your patronage!
Be sure to follow us on Facebook – TheDancingGoat
How to reach us:  thedancinggoat83@gmail.com or call 813-784-0353.
Little Pond Farm
Bushnell, Florida
Cole Turner, Farmer
Little Pond Farm is located in Bushnell, where we farm to enrich the land and its human and animal inhabitants. We focus on building our soil, giving back to our fields, and growing as much healthy, honest food as possible with no chemicals or synthetic inputs. We follow organic standards and permaculture principles to create beauty, abundance, and long term sustainability. In our first year, we are learning to save our seed to create diverse locally adapted vegetable varieties, as well as planting legume and fruit trees turning the bank of our pond to a thriving orchard and forest of food.
How to reach us: www.facebook.com/littlepondfarm
Willow Herbal Delight Gardens
Valrico, Florida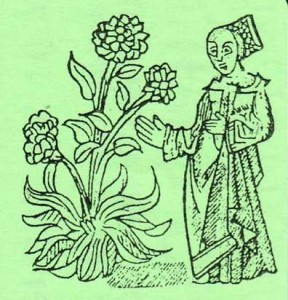 Willow LaMonte, Folk Herbalist
Organic edible plant nursery featuring culinary/medicinal herbs, tropicals, and perennial edibles.  Distributor of organic garden seeds.  Garden tours, classes, workshops.  Edible design/garden consultation.
How to reach us: (813) 643-7285
20 Shekels Bread
Clearwater/Largo, Florida
Marni Atherton, Owner
20 Shekels is a Tampa Bay bakery founded with the simple idea that nutritious bread should be eaten not because it's healthy, but because it tastes good.
This is our baby, our passion, our love. We'd like to say it all started with a dream, but alas it was not so. We're a little too piratey for such things. Instead, it went like this:
"Twenty bucks says you can't make a bread that's good for you AND tastes great."
And in the fervor of a 10-year-old shouting out "CHALLENGE!!", the game was afoot. Now after many moons, burnt fingers and loud expletives, we're proud to present what we feel is the healthiest, finest, best tasting bread on the market today.
Made entirely from the highest quality, most nutritious, organic ingredients available.
Enjoy.
Java Planet Organic Coffee Roasters
Tampa, Florida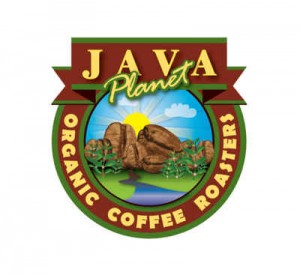 Jennifer Simmons, Marketing/Sales & Mike Simmons, Master Roaster
We offer the freshest, best tasting organic and fair trade certified coffee beans in Tampa Bay! We sell 16oz bags of fresh roasted 100% Arabica coffee beans from all over the world! Try a sample and you will be convinced that this is a great coffee!
How to reach us:  www.java-planet.com
Local Licks feat. Pop Craft Pops
St. Petersburg, Florida
Andrew Wood
Our mission at Pop Craft, is to create healthy, tasty frozen confections sourced from local, organic ingredients whenever possible. Pop Craft flavors are unique to us.
When you taste what we have created, you will clearly, unmistakably identify the difference on three levels – sight, smell and taste. In developing a new flavor, it has to hit the bar on all three levels. It does not stop there. We strive for the taste to hit you at the beginning, the middle and the end. A different experience at each stage. Kind of like tasting wine………Wow!
We never use corn syrup, any kind of preservatives, artificial flavors, colors or chemicals in our pops. Instead, we use fresh whole seasonal fruits and vegetables, and use organic products whenever possible. Only the best, freshest and ripest fruits will appear in our pops.
There is a saying in the food business, "your dish is only as good as your ingredients" our dish is always pops, and our ingredients are always the best!
Even people with special dietary needs will be able to indulge. We always have at least one flavor sweetened with the natural sweetener, Agave.
Our fruit pops average less than 100 calories each. You always can count on several non-dairy alternatives. 99.9% of our pops are "Gluten Free"
Ahna's Cultural Gifts
Tampa, Florida
Ahna Clark, Owner
"Many Hands Many Lands" My business began with my love of travel, exploring different far away lands and cultures my passion. You will find a great variety of ethnic jewelry and handicrafts from or inspired by my travels. I travel several times a year and also have various dealers from places I have yet to go, always bringing in new inventory and stories to share.
How to reach us: ahna2008@yahoo.com
Freedom House Farm
New Port Richey, Florida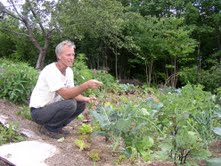 Jim Kovaleski, Market Gardener
I am a Market Gardener using permaculture principles and practices to gather the abundance from Freedom House Farm, 1/8 of an acre of urban farm fields in downtown New Port Richey. The farm produces cool season crops mostly leafy greens also offering neighborhood gleaned citrus, pecans, loquats, and mulberries.
How to reach us:  james.kovaleski@gmail.com
Whitwam Organics
Seminole Heights (Tampa), Florida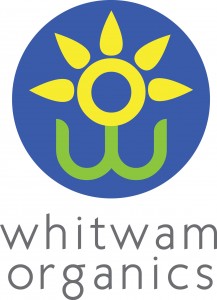 David Whitwam, Owner
We support our customers by selling the same products, books, plants, compost, etc. we use in our own backyard journey. We also offer consultation or what I like to call "garden coaching", full veggie garden installs and planning. If you just need a bit of advice, come by our tent. Or, if you just need a little help around the yard to wrap up projects, we do that too.
Gardening is not some intimidating production. With the help of Whitwam Organics, gardening becomes a chance to enjoy, explore and reap the rewards of your labor.
How to reach us:  www.whitwamorganics.com
Gopali Imports
Tampa, Florida
Alex Gopali-Owner
"Gopali Imports" directly imports fair trade/Hand made/Hand crafted/Eco-friendly Hemp products, Cotton products, Nepali Paper (Lokta) Products, Singing Bowls, Yoga accessories, Silver Jewelry and more from Nepal and Tibet.
How to reach us: www.gopali-imports.com or alexgopali@gmail.com or call 813-545-4831
SarJade Jewelry & Gifts
Dover, Florida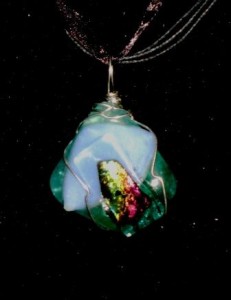 Yvette Rouse, Owner/Jewelry Designer
Welcome to my art jewelry and gifts. All of my items are unique, one-of-a-kind, handcrafted pieces. I design and create my own art beads and pendants in many different media, including metals, clay, resin and glass. I also upcycle materials where I can and get my inspiration from nature, people around me and my own travels and years spent overseas. While my degree is in computer information sciences, I've been making jewelry for over 14 years to feed my creative side. Now I'm pursuing my passion for creating wearable art by playing with clay, glass and bits of nature. Talk to me about designing a custom item just for you.
How to reach me: (813) 716-4286 or email SarJadeJewelry@gmail.com
Mother Kombucha
St. Petersburg, Florida
Tonya Donati, Joshua Ramschlag, Owners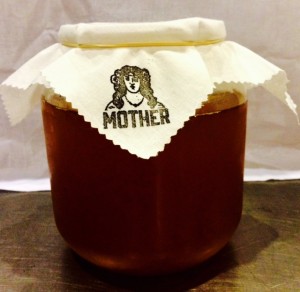 Mother Kombucha makes small batch living kombucha, hand crafted from fair trade organic teas, tisanes and natural flavors. Rich with probiotics, beneficial amino acids and antioxidants – our kombuchas make a delicious and healthful alternative to sugary sodas and juices. And because we believe that things that are good for you should also taste great – we create flavors that enhance and compliment the natural tartness of kombucha rather than trying to hide it. The result is crisp, effervescent and invigorating. Brewed in St Petersburg and available throughout the Tampa Bay area, we serve our kombucha on tap for maximum freshness and enjoyment. Embrace the Ferment!
Be sure to follow us on facebook – MotherKombucha
How to reach us:  727-409-8806 or motherkombucha@gmail.com
Two Seeds in a Pod
Tampa, Florida
Dr. Mehmet Oztan, Farmer, Heirloom Seed Saver, Engineer
Two Seeds in a Pod is a family-owned heirloom seed business founded by Dr Mehmet
Oztan, a civil engineer, in January 2013. Our goal is simple yet important: To bring rare,
forgotten, and often endangered heirloom vegetable varieties, and the varieties that are not known by the U.S. growers/consumers into focus in order to promote genetic diversity, help preserving our own history and Earth's past, and enhance our ties with different cultures.
Our primary principle for offering a specific variety of seed in our catalog is to offer seeds which provide that delicious "from our childhood" taste. At the same time, we also offer seeds that are good producers. We are driven by nutritional values, quality and appearance of a specific variety, and not necessarily by how large the plants/fruits grow.
The main difference between Two Seeds in a Pod and other seed companies is the research
involved with our seed growing practices. We search for very rare heirlooms and their
historical background, grow their seeds and evaluate their field performances, document their characteristics and photograph them. Finally, if we are satisfied with a specific variety, then we release it through our seed catalog to make it available to home gardeners and farmers. We release new seed varieties twice a year, once with our fall catalog and once with our spring catalog. While we sell seeds nationwide, we specifically look into varieties which do well in Florida's growing conditions.
Besides the heirloom/open-pollinated seeds we introduce/produce, we also carry other rare heirloom/open-pollinated seeds that perform well in Florida for growing our own seedlings and produce which we also offer at Sweetwater Sunday Market.
How to Reach Us:
E-mail: contact@twoseedsinapod.com
Musashi The Bee
Safety Harbor, Florida
Musashi Yamasaki, Beekeeper
Musashi The Bee is located in Safety Harbor, FL. I use an organic method of beekeeping which produces the highest quality Bee Pollen, Beeswax and Honey. I primarily sell Bee Pollen, as this is the most intense health boost the bees provide us! This is the most fresh Bee Pollen possible. It looks, tastes and feels very different than Bee Pollen you have seen in the health food stores.  People suffering from Allergies, Asthma, crohn's Disease and many other ailments, have reported amazing results taking fresh frozen Bee Pollen.
I also sell many products that are based on my chemical-free beekeeping method, including Happy Skin Honey Lotion, All Natural Lip Balms, a healing salve called Honey Bee Rescue Cream which has Propolis in it, and the most pure and long-lasting Beeswax tealight candles available anywhere!
I do sell honey, when it's available, but the supply is extremely limited, as I focus primarily on Bee Pollen.
If you want to get your beehive based products from the actual farmer….you have found him!
Be sure to follow us on facebook – MusashiTheBee
How to reach us: 727-492-2456 or musashi@musashithebee.com
Hope2Health Herbal Tea Blends
Hope Owens-Henry, Owner
I am a holistic health coach that specializes in blending herbs to create healthy drinks from nature. My blends are designed towards improving health and strengthening the cells of the body. We are surrounded by toxins from our environment to food and water. It is important to consume organic foods and drink naturally. Your body deserves it, so drink 2 your health, at Hope2Health.
How to reach us: www.hope2health.com  or email hope2health4u@gmail.com
Succuland Mingle
Vanessa Rodriguez, Owner
Assortments of easy-to-care for succulents, cacti, and bamboo plants all nestled away in trendy up-cycled vessels garnished with natural remnants such as drift wood, rocks, crystals, live moss and shells. Such natural elements add unique character to these versatile indoor or outdoor gardens with style!
How to reach me: succulandmingle.com
Nice 2 Be Natural Pets
Robyn Fredericks, Owner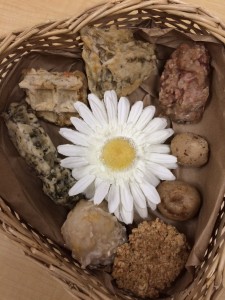 I started my natural ovenbaked pet treat business in 2010 in honor and memory of my pet pig, Langston. He only loved fresh and wholesome food such as tomatoes, bananas, greens, nuts and other wonderful veggies and fruits. I decided to take those items and experiment making ovenbaked pet treats using his favorite ingredients and making healthy and beneficial treats, for cats, dogs and exotics. We do not use preservatives, by- products, dyes, additives or harmful ingredients. All natural ovenbaked pet treats are made in small batches and are even made with brown rice and tapioca blends for your pets special needs. It is suggested to store your natural ovenbaked pet treats in an airtight container in the refrigerator or freezer to guarantee freshness.
Visit Nice 2 Be Natural on Facebook and learn more about all of the natural ovenbaked pet treats we make. If you would like to special order or have any inquiries please call Robyn Fredericks at 863 845-9059 or email at nice2benatural@gmail.com.
Nice 2 Be Natural Pet Treats also makes natural ovenbaked pet treats for special events such as Pet Birthdays, Weddings involving pets and Fundraisers.
Please visit us at Sweetwater Organic Farm every Sunday and stock up on your natural ovenbaked pet treats for cats, dogs and exotics.
My Neighbors Greens
Citra, Florida
Jay Cowart & Tammy Wise
My Neighbors Greens is a family-owned, family-operated small farm located in Citra, FL.  Jay Cowart, a Tampa native, and partner Tammy Wise, are raising pastured poultry modeled after Joel Salatin's philosophies on mobile farming.  Our chickens are moved utilizing outdoor chicken tractors across the pasture.  We raise a number of different poultry breeds, some being heritage as well as meat producing Cornish cross.
Our vision is to develop a small farm that is sustainable and adds value to the land.  Developing ways to farm that are not harmful to the environment has always been part of that vision.
While Tammy and Jay reside in Tampa, they maintain a 5-acre farm in Citra.  Family members reside on the farm and help with day-to-day activities.
Sweet Annie's Organic
New Port Richey, Florida
Annie Christensen , Owner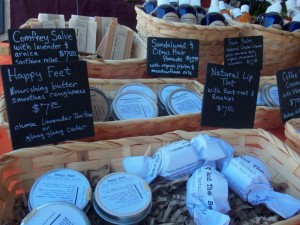 There was a time when herbs were the only way we had to take care of our skin and hair. But as beauty product companies grew, they began to replace the herbs and flowers with synthetic ingredients. As time passed, we forgot the herbal wisdom of our forebears.
These days, herbs are enjoying a rebirth in skin and hair care products. However, the commercial products carry some serious concerns. They label a product herbal, though it is not; just some fragrance oils or maybe a splash of essential oil to make the product appear natural. And I don't think that is fair to customers. When I expressed this to my husband, he replied, "you should do something about that".
Being a woman of action, I did do something about it, and that's how Sweet Annie's Organics was founded. We decided to pair up together as a husband/wife wonder team and create soap, lotions, creams, hair balms, and scrubs using only natural and organic ingredients (yes, even our preservatives are natural and safe).
I work out of our studio in our West Central Florida home, using it as my creative outlet for mostly soap and skin care product making, but also for jewelry designing, and painting with my daughter.
Wic N' Flames
Tampa, Florida
Nichole Bardes, Owner

Wic N Flames is a locally owned Home Fragrance Shop. We feature Natural Soy Candles made with lead-FREE cotton wicks or an Organic wooden wick. Aside from candles we offer a Room Deodorizers, Paw-fume, tart melts & Incense.
We have a large variety of scents from Earthy to Food and beyond. While most of our candles contain dye, we certainly have the ability to leave out that pop of color, for a more natural look! Please let us know if that's what you prefer. We offer custom blend  ordering and make gift baskets too!
We do like to reuse and recycle, so we offer a candle jar "buy back" credit towards your next purchase.
Stop on by to SMELL, what we're all about!
Facebook: www.facebook.com/wicNflames
Etsy: https://www.etsy.com/shop/wicNflames
The Mending Bead
Tampa, Florida
Lily Beahan, Owner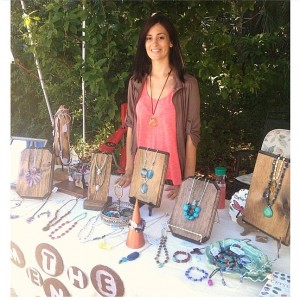 The Mending Bead was founded last year while recovering from an auto-pedestrian accident that left me with two broken legs.  Not knowing how I'd get through months of being bedridden, I started making jewelry. While mending back to health, I created jewelry using natural healing stones and wooden beads.  A terrible injury turned positive because of my handmade jewelry.  After creating so many unique pieces, I realized I wanted to share my mending beads with others who could benefit from their natural healing abilities.  I can also design jewelry that specifically meets the healing needs of customers so please stop by and share your story with me.
Peace and Love
-Lily