Sunday Yoga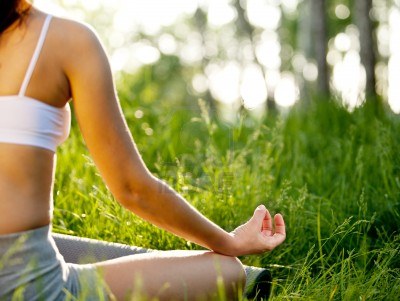 Every Sunday 11am-12pm
Start your Sunday off right with an hour-long yoga session on our beautiful farm.  From 11:00 am – 12:00 pm members, non-members, visitors and friends are all welcome to enjoy yoga outdoors on our farm every Sunday before our Sunday Market begins.  Bring your own mat or blanket and meet us at the firepit, no reservations required.  (We suggest you bring water to drink and bring bug repellent and sunscreen along just in case.)  Minimum suggested donation of $5 will be used to build a fund for a permanent yoga structure!  Yoga classes will be led by two local yoga instructors, Jamie Blessinger and Susan Oliver.
**Please note:  if the weather drops below 60 degrees, we will not have yoga that day.

Jamie Blessinger
Jamie Blessinger of Jai Dee Yoga believes everyone can benefit from yoga as it facilitates personal growth and brings a holistic awareness to light as it integrates body, mind, and spirit. Jamie's love for yoga permeates her entire being. She has noticed the tremendous impact that it has on her own life as she feels her absolute best while practicing, teaching, and studying yoga. She is always willing to share yoga classes, private sessions, or just conversation with anyone who is interested. Jamie has an Associates degree in Human Services, a Bachelors in Liberal Studies with a concentration in Social Sciences, she is a 500-hour graduate of PranaVinyasa School of yoga. She plans to allow her yoga journey to continue to evolve as she embraces it as a lifestyle.

Susan Oliver
Like many in the West, Susan Oliver began her yoga practice at the local YMCA as the 20th century waned and later progressed to Bikram and Vinyasa Flow, flavored by teachers of Forrest and Anusara. In 2011 she completed Micheline Berry's 200 Hour Prana Flow™ Teacher Training. In April 2012 she completed a module in Senior Yoga from Asheville Yoga Center.
Accompanied by an eclectic musical playlist from 60s folk rock to present day alternative, Susan's classes focus on alignment, breath, and bringing yoga into your life on and off the mat.  She teaches beginner and intermediate flow classes and yoga for active older adults as well as chair yoga.   Students new to yoga as well as experienced practitioners will benefit from her artful ability to teach balance, strength and relaxation through Vinyasa Flow Yoga.