Programs/To Do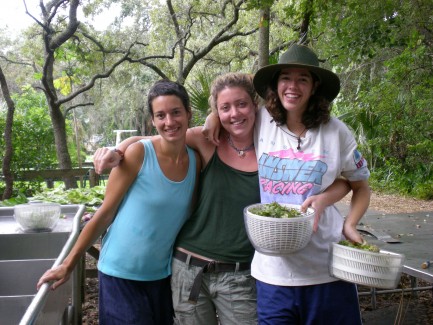 We're more than just a farm!
Through our variety of community programs, we provide educational opportunities for kids and adults to learn about organic farming, caring for herb and vegetable gardens, healthy living and environmentally-friendly, sustainable life choices.
Our Community Supported Agriculture (CSA) Program was the first in Florida and keeps growing every year.  CSA "Members" purchase a "share" of the vegetables we grow ahead of the season and then pick up their veggies on a weekly or bi-weekly schedule depending on the type of membership they purchased.
Hundreds of school children have visited the farm through our hands on Field Trip Program where kids become "Farmers for a Day" and learn where food comes from!  Our Workshop Series is open to the entire community.  Attendees enjoy expert advice on organic gardening, plants, food choices, healthy/sustainable living, and many other topics!
Our Sunday Farmer's Market is open to the public every Sunday at the farm from 12 – 4 pm during our growing season.  A relaxing yoga class begins the day from 11-12, followed by live music as part of Sweetwater's Live Music Series, an organic Produce Stand, and plenty of local Vendors selling everything from green smoothies to soap!  This seasonal Market is open November through May.
So plan a field trip with your kid's school, spend an afternoon in the greenhouse volunteering, attend a workshop to learn about back yard composting, or join as a CSA Member and enjoy the freshest organic veggies you can buy!
However you like to get involved, you're sure to learn and enjoy your time at Sweetwater Organic Community Farm.