Sunday Market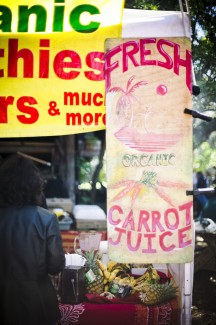 Sweetwater Sundays
Sweetwater not only grows organic vegetables and herbs, we also host a community Farmer's Market!  "Support Local" – we are open to the public on Sundays from noon to 4pm during our harvest season (November to May).  Leashed dogs welcomed.  Come check out the farm, listen to great music, have a picnic lunch, shop for local produce and environmentally-friendly products, meet like-minded individuals, and enjoy our orchard and gardens.  Bring your friends and family!  It's a great way to support local businesses, local/organic agriculture, and our educational and community programs.
The market features:
The Sweetwater Farm Stand, where we sell surplus Sweetwater Farm-raised veggies (when available), as well as fruits and vegetables from other organic farms (through a distributor).  Sweetwater organic cotton T-shirts, cold drinks, and other specialty items will also be available.  We accept cash or check only.
Vendors selling environmentally-friendly and handcrafted products, such as wonderful local produce, farm-fresh eggs, artisan breads, organic coffee, raw local honey, organic herbs and Florida-native plants, organic cotton and hemp clothing, beautiful handmade arts and crafts, gardening books, body care products and more.
Workshop Series offers informative workshops by guest presenters on sustainable living skills, organic gardening, cooking, holistic healing and more.  Check out our Events page for upcoming workshops.
Live Music Series with open mike sessions from 12-1pm and 3-4pm, and featured performers from 1-3pm at every market.  We have tons of great musicians, including many internationally-known artists, who frequent our stage.  Check our Events page for weekly musician info and our Music Series page for a monthly listing.
Sunday Yoga with Jamie Blessinger and Susan Oliver starts an hour before the Market from 11am-12pm.  Bring your own mat or towel and meet us at the firepit.  $5 suggested donation.  Open to all, no reservations required.  More info on our Yoga page.
Delicious prepared foods such as organic smoothies, veggie burgers, and raw foods!
Click here for Directions and Parking info…